Can you perform at my Wedding, Birthday party or Bar Mitzvah?
YES! Just as with any size event, we can perform at any type event. The choice is yours. We're ready to play at any and all functions—birthday, weddings, bachelorette parties, you name it. Whatever your celebration, we'll show up to make you laugh.
Can you entertain for my Corporate Party or Awards Banquet?
YES! We can customize our show to your fit business & event. And since the show is interactive, we will bring your co-workers up on stage with us to join in on the excitement. We'll even spoof your competition—all in the name of good fun! Imagine your friends, co-workers, or even your CEO on stage in the thick of a production guaranteed to delight audiences of all ages!
Can you help us keep our next conference, meeting, or seminar lively and entertaining?
YES! The Tortuga Twins make the audience part of the show. No longer will your coworkers sit passively by, fighting the urge to slip out early or worse…fall asleep.We design all of our productions to get the audience involved and break down the "fourth wall" of traditional theater. We bring your colleagues into the action and often onto the stage to make for a highly entertaining and memorable experience.
I hear that you guys can even OFFICIATE our Wedding?!
NEW-EXCITING-UNIQUE: You CAN have the Tortuga Twins officiate your Wedding!!!As if the Tortuga Twins weren't audacious enough, we're now marrying people brave (or crazy) enough to pay to have your favorite Renaissance Festival Performers (that's us, btw) officiate your nuptials on your very special day. Whether you're looking for Secular, Spiritual, Comedic, or Serious—we've done got ourselves ordained as MINISTERS and are ready, willing, and able to customize a ceremony to your personal, if not offbeat tastes.
Can I Afford You?
YES! Don't worry about too big or too small. We can tailor our performance to fit any budget and type of event.
Are there other comedic services you provide?
YES! Our emcee services range from presenting awards and introducing speakers to giving those house announcements and keeping your general sessions moving with a flair that will hold boredom at bay until long after the seminar is over. We're up for anything—whether it's holiday parties or award ceremonies, or even running your raffles and giveaways. The Tortuga Twins are even available for comedy consulting, where you can use our talents to liven up any tired presentation or training audio/video material.
Can you do a clean show? We're not sure we want it to be wild.
YES! We bring smiles to any audience—younger and older, bawdy or "Disney-clean." The choice of show rating is up to you. Our shows can be wholesome and appropriate for the more family oriented audiences or a bit risqué for that roast or trade show atmosphere. Remember, with the Tortuga Twins, you are the boss.
Will you write a brand new show specifically for our event?
YES!We're here to make you happy and your party memorable. We already have stage shows written about Robin Hood & Maid Marion, Little Red Riding Hood & the Big, Bad Wolf, Helen of Troy & Achilles. We even a tall tale or two starring the swarthy pirates, Captain Morgan & Bluebeard.But, don't feel you're limited! We'd LOVE to write a special show, just for you!
We here at Tortuga Twins Comedy Productions are completely flexible, and (for a small fee) we will tailor our shows to your favorite idea. If you don't have the time to put together an idea of your own, call us and we'll coordinate the theme for you. We have years of experience in scripted and improvisational humor. No problem for us. No worries for you
Can you perform shows other than "Renaissance Style" shows?
YES! The Tortuga Twins will provide any type of entertainment you desire. Our interactive characters run the full gamut—from quirky and amusing personalities who wander your convention, brightening faces as they go…to full-scale pirate battles with buccaneers in search of buried treasure. There are mad scientists on the prowl, nerds delighting your guests, and rowdy banditos to emcee your presentations. We have musketeers and monsters, spies and gangsters—the list goes on and on.
Comments or questions are welcome.
Testimonial
My fiance and I weren't sure what to do when planning our bachelor and bachelorette parties as neither one of us was too keen on a night of bar and club hopping. We talked about having both parties together with some family and friends, but we really wanted to make it something fun and memorable above and beyond a standard house party. Enter the Tortuga Twins. We reached out to them, not thinking they'd be all that interested in coming out to perform a show for a small crowd at a private party, or that we could afford it in the first place. We were so wrong and I'm glad we were! The Tortuga Twins were excellent to work with from our very first e-mail. The Tortuga Twins worked with us to come up with a performance that would fit our budget and the tone of the party we wanted to have. They were great about communicating with us and quickly responded to all questions and messages. Their priority number one was that we and our guests were entertained and had a good time. Being avid Renaissance Fair goers we knew the type of comedy we could expect from the Tortugas (they are just as fun and funny doing kid friendly shows as they are with risque adult crowd entertainment) and they went out of their way to make sure they knew what our audience's limits were -- as we had asked for a bawdy show fitting for a bachelor/bachelorette party. They were timely, professional, and delivered a hilarious show that was exactly what we asked for. I would absolutely hire them again and would recommend them to anyone looking for something to make their event really memorable. We are still getting comments from guests about the great time they had and how much they enjoyed the Tortuga Twins' performance. Thank you Tortuga Twins!
April Kummrow - MN 2016
Dear Tortuga Twins,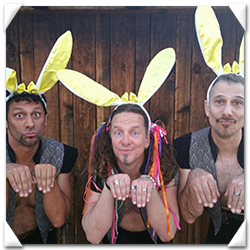 I wanted to send you a very big and hearty "Thank you" for the Private party you attended in honor of our Birthday party.
We had so many of our guests wanting to do the private party again for next year. I was so elated when I received such a positive and eager response from this event and I would gladly have you guys back for the fun and frolic that you provided for me and all of the guests that were in attendance!
The SWORD Show was worth every penny and it made me feel very grateful that you guys could provide laughter in a time when everyone seemed to be stressing. So, again THANK YOU for everything that you brought to the party and I hope we can do this next year at the 'same time, same channel'. The laughter and personal touches that you incorporated in the show were just amazing and so very very funny!!! I would do this every year that you come back to Arizona! I am so ecstatic about next year so keep in touch and let me know if we can get together and have some hilarious laughter again. Huzzah!!!!
Thank you so much, Scaramouche, Raphael, and D'Angelo for a whopping great time of fun and laughter. Laughter is definitely the best medicine and you are the Masters.
Sincerely a Fan forever,
Kathy Jancarole